The Real Reason Kate Middleton and Prince William's Royal Titles Just Changed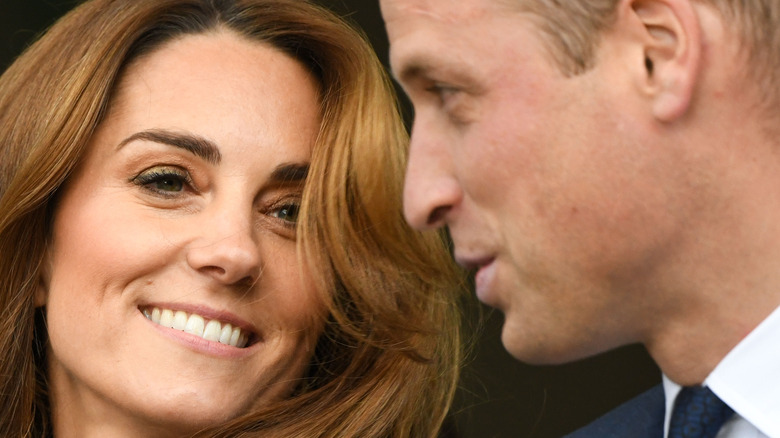 LINTTREN.COM/Shutterstock
Prince William and Kate Middleton, in conjunction with their royal duties, have embarked on a two-day journey to Scotland, with stops in Glasgow and Edinburgh. The royal couple's appearances are in conjunction with Britain's Mental Health Awareness Week, per emphatically†
In Glasgow, the Duke and Duchess of Cambridge attended a program called 'Roots of Empathy'. Operated by Action for Children, the program involves a partnership between infants and primary school children, per People† The baby visitors along with a parent provide an opportunity for school-aged children to learn about emotions. "Roots of Empathy" combines two causes, early childhood development and mental health, that are close to the Duchess's heart as part of her inspiring charitable work.
While still visiting Glasgow organisations, William and Kate also spoke to students at the University of Glasgow about mental health issues during the pandemic. William continued on to Edinburgh and joined the Hearts Football Club to learn more about 'Changing Room', a program that combines football with men's mental health, per Mirror†
As they travel through Scotland to learn more about these important programs, chances are people who talk to William and Kate will address them by a different, lesser-known title, rather than Duke and Duchess of Cambridge.
Prince William and Kate have multiple, location-dependent titles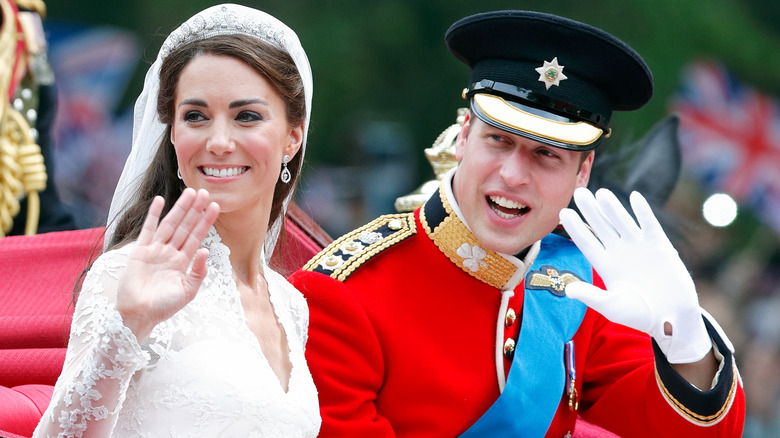 Max Mumby/indigo/Getty Images
When they married on April 29, 2011, Prince William and Kate Middleton each received three titles from Queen Elizabeth. Though best known as the Duke and Duchess of Cambridge, Her Majesty also bestowed upon the newlyweds the titles Earl and Countess of Strathearn, as well as Baron and Lady Carrickfergus, per My London† These titles are location specific: when William visits Scotland, he uses his title Earl of Strathearn. When Kate is in Northern Ireland, she is called Lady Carrickfergus.
William and Kate aren't the only royals with location-based titles. According to British HeritagePrince Charles holds three Scottish titles: Duke of Rothesay, Earl of Carrick and Barron of Renfrew. However, he is usually referred to as Duke of Rothesay and Camilla Parker Bowles uses the title Duchess of Rothesay. Before they retired as working royals, Prince Harry and Meghan Markle were known as Earl and Countess of Dumbarton in Scotland. In Northern Ireland their titles were Baron and Baroness Kilkeel, per Tatler†
When it comes to the royal titles, William and Kate have indicated that they can change protocol and modernize the monarchy. When they visited Wales in March, William and Kate impressed a royal fan with their relaxed demeanor. In addition, after the controversial Caribbean tour, a royal source told the Mirror"They want to be more accessible, less formal, less stuffy and break with much of the tradition."
William and Kate's royal titles will change over time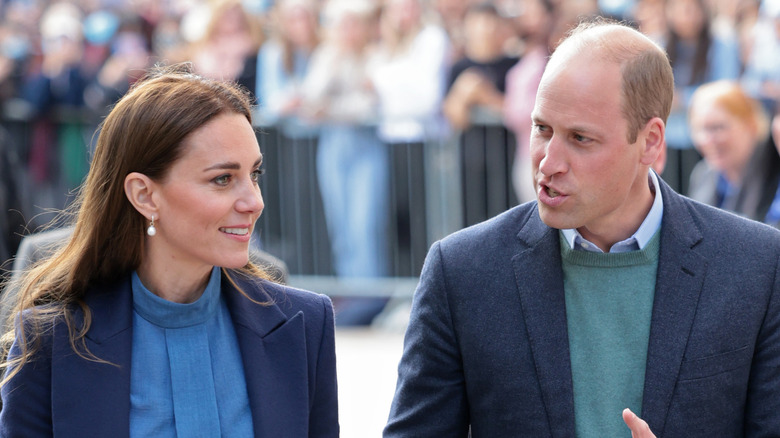 Chris Jackson/Getty Images
As he ascends the royal ranks, Prince William's titles will change. When Prince Charles becomes king, William will take over some of his father's current titles. "The Duke of Cambridge automatically becomes Duke of Cornwall and Duke of Rothesay, among other titles assumed by the heir to the throne," royal expert Iain MacMarthanne said. Marie Claire†
Kate Middleton's titles will also change. It is likely that she will no longer use the title Duchess of Cambridge, which can then be bestowed upon someone else. Kate is given the titles Duchess of Cornwall and Duchess of Rothesay, per My London†
As for the Prince and Princess of Wales titles, MacMarthanne says Charles can choose to give the title to William as a gift as it is not inherited (via Marie Claire). It is likely that Charles will bestow the title of Prince of Wales on William, making Kate the Princess of Wales. Currently, Camilla Parker Bowles has chosen not to use the title Princess of Wales out of respect for the memory of the late Princess Diana (via City and Country.) Assuming Kate does take the title, it will be an emotional choice.
"I'm sure it will be a bit of a bittersweet moment," a royal source told The Telegraph. "This is her [Diana's] son and his wife, so in a way it will come full circle, but it will also be a poignant reminder of what we've all lost."
#Real #Reason #Kate #Middleton #Prince #Williams #Royal #Titles #Changed